Boracay is a paradise of plenty, providing everything the traveller could possibly want from a holiday. Dazzling beaches, crystal waters and azure skies supply the backdrop for relaxing or partying, solitude or company. With a seemingly endless list of sports and activities on offer, areas of outstanding beauty to visit and hundreds of places to eat, drink and be merry.
There are a number of ways to reach Boracay Island:
Fly by Philippine Air Lines, Air Philippines or Cebu Pacific going to Kalibo airport:

• Upon landing Kalibo Airport, L300 van or shuttle buses will
take you to an exciting 1 1/2 hour trip to Caticlan
Jetty Port.
• From there, a 25-minute ride from motorized outrigger
boat from Caticlan Jetty Port will bring you to the
exotic paradise.
• From Manila to Boracay via Kalibo Airport takes
approximately 3 hours.

Other commercial airlines such as Asian Spirit and SEAIR serves directly to Caticlan, then a short tricycle ride going to Caticlan Jetty port.

• From Manila to Boracay through Caticlan Airport takes
around 90 minutes.

A cruise ship; MBRS shipping line is also available from Manila to Caticlan and vice versa.

• From Manila to Boracay through vessel/ships travel takes
13 hours.

Getting There

ISLAND LOCATION

Boracay Island, the Philippines' best world-class tourist destination is located in the Northwestern tip of Panay Island. It belongs to the municipality of Malay, province of Aklan. Boracay, popularized by its unique, very fine white-sand beaches, could be reached through the combination of air, land and sea travel.
Boracay Multiple Properties Developers, Inc.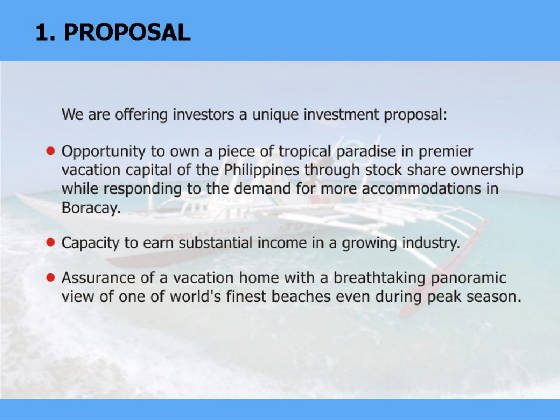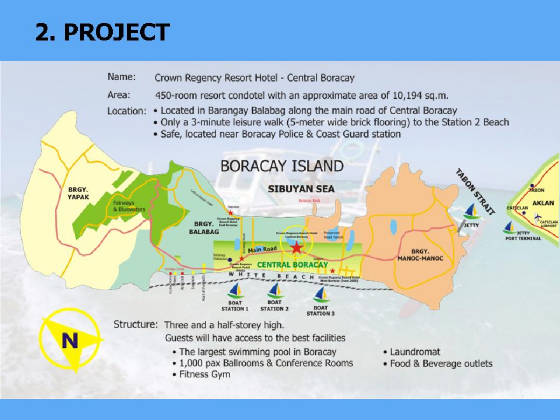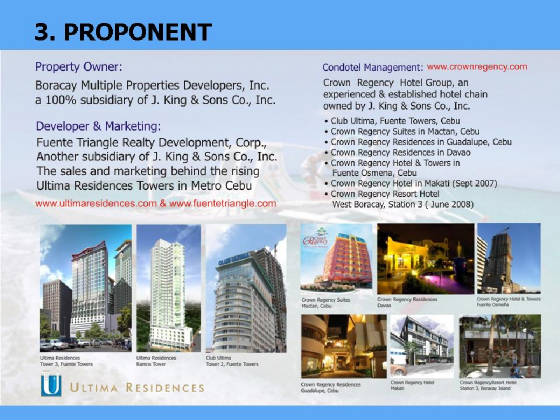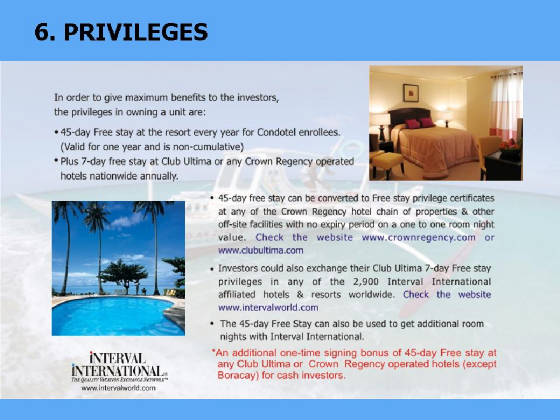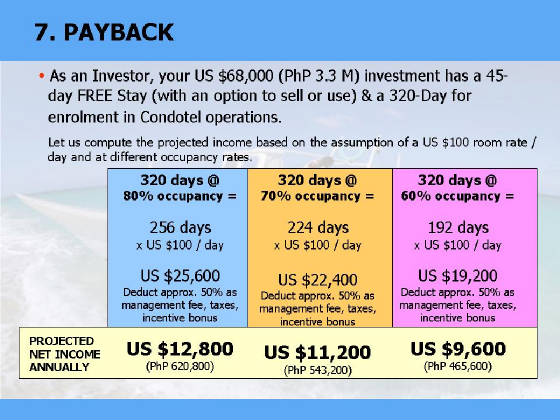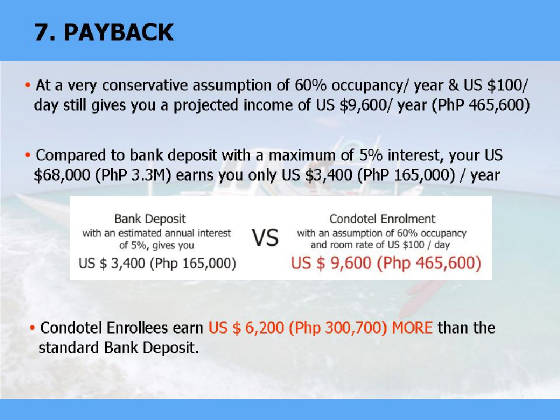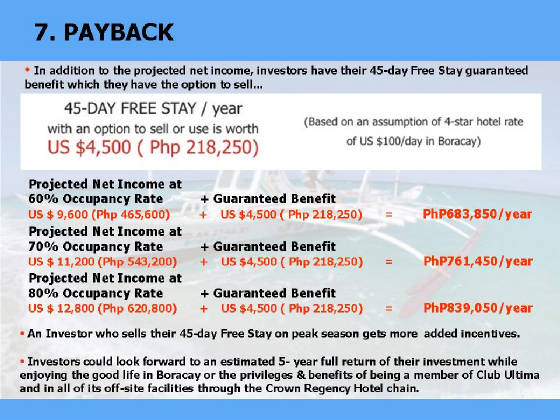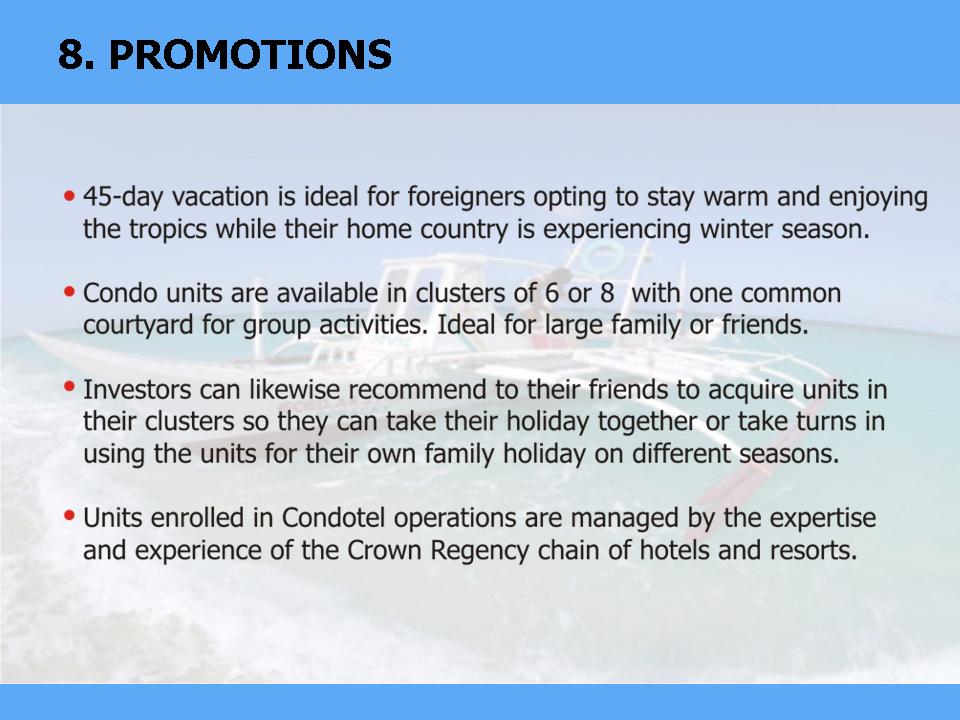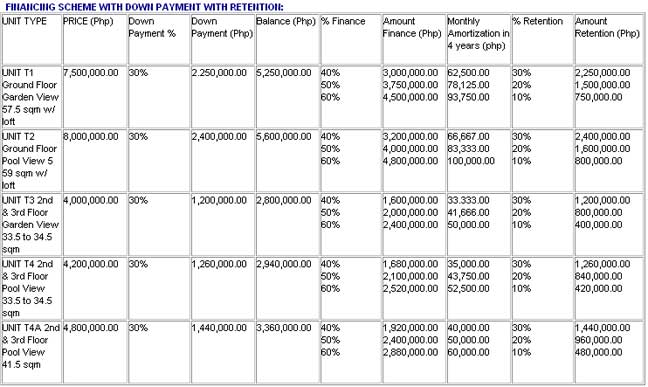 Existing Club Ultima members get a Php 300,000 discount from the existing price. Discount applies to only one (1) unit. Members with one (1) room night privilege must upgrade to seven (7) room night privilege to avail of the member's price. For non-members, price includes Club Ultima membership with 7 Free room nights with option to enroll with Interval International. Refer to www.intervalworld.com Foreign currencies are accepted at a lock-up value of minus one peso of the prevailing exchange rate.

DISCOUNTS: 7% discount (based on down payment) if down payment is paid outright or 5% if down payment is paid within 30 days from reservation.

TERMS OF DOWN PAYMENT: 6 months to pay. Can be paid in 12 months but the amortization of the balance should start on the 7th month.

RESERVATION: P100,000 (non-refundable but deductible to the price)

Notes: All payables shall be covered by post dated checks. All checks should be made payable to Fuente Triangle Realty Development Corporation.
FREQUENTLY ASKED QUESTIONS:
Who will operate the condotel upon commercialization. A. Condotel will be managed by the Crown Regency Hotel Chain.
How does the condotel operate? A. The condotel will generally operate like a resort hotel. Individual owners may use their condotel units for 45 days every year if their unit is enrolled under rental pooling. If the usage will exceed 45 days, they will have to pay the member's rate (30% discount from the regular rate). Owners who do not choose to enroll their units under condotel operations may use their units as vacation home or for residential purpose.
If the unit owner decides not to enroll his unit under the condotel operations, will the unit owner be charged with association dues? A. Yes, the unit owner will be charged with monthly association dues which will be determined later by the operator.
Are there association dues for unit owners who enrolled in the condotel operations? A. There are no association dues for units enrolled under condotel operations.
What if the unit owner was not able to use the 45-day benefit. A. The 45-day benefit has an expiry of one year. The 45-day free stay can be converted to Free stay privilege certificates at any of the Crown Regency Hotel chain of properties and other off-site facilities with no expiry period on a one to one room night value. He can also enroll it at Interval International or sell it to his friends.
Are repairs shouldered by the condotel operations? A. Only minor repairs shall be shouldered by the condotel operator.
What is the minimum period of the condotel enrollment. A. Upon turn over of the unit, the unit owner may immediately enrol with the operator. The minimum period a unit can be enrolled is 3 years.
How does the condotel operation differ from timeshares? A. In timeshare, you only exercise a right to use the property for a certain period of time. When you own a unit in Boracay Multiple Properties Developers Inc. (BMPDI), you own a share in the Company wherein your ownership of a share is evidenced by stock certificate that makes you a unit owner and a stockholder of BMPDI.