House and Lot Cebu & Cebu Lots for Sale in Talamban at RIVERDALE


Master planned development in Pit-os , Talamban, Cebu City. Riverdale is inspired by the charming and tranquil way of life of the American South.
Idyllic and captivating, Riverdale is initially at 13 hectares with 3 distinctive enclaves of The Ridge offering plain for lots only, The Valley, for terrain homes and luxury homes with lots only package and The Peak Park with central amenity area, offering a combination of lots only and houses and lots of Bauhinia & Jacaranda and the terran homes, Amaryllis, Allamanda & Ambrosia.
The entire community is expandable to 50 has. and caters to young urban professionals with price ranges for house & lot at P2.9 up to P5m. Lot size is available from 150 sqm. to 300 sqm. It is within the residential zone of Cebu City, just 2 kilometers away from Cebu International School, 15 minutes from Banilad Town Center and Gaisano Country Mall, 30 minutes drive from Ayala Center and about 10 minutes drive from Sacred Heart School and from the University of San Carlos at Talamban.
A rest house - like haven, the place has such a cool temperature, with the scenic river view topped with the real refreshing ambience of surrounding green mountains and lushes of trees. Come and be with us. See for yourself the charming character of our homes- at Riverdale.
View from the peak

The Peak Pavilion

CLICK AMENITIES TO ENLARGE

The Peak Steps
JACARANDA

House features:

Minimum lot area - 175sq.m./1,884sq.ft.

Floor area - 175sq.m./1,884sq.ft.

4 bedrooms Porch

4 toilet&bath Balcony

Living room Maid's room

Dining room Laundry area

Kitchen Carport

Lanai

Click floor plans to enlarge
MIMMOSA

House features

Minimum lot area -163 sq.m./1,184 sq.ft.

Floor area - 110 sq.m./1,755 sq.ft.

4 bedrooms Lanai

1 maid's room Balcony

Living Master's bedroom toilet&bath

Dining Carport

Kitchen Laundry area

3 toilet&bath

Click floor plans to enlarge
AMARYLLIS

Minimum lot area - 180 sq.m./1,938 sq.ft

Floor area - 147 sq.m./1,582 sq.ft.

4 bedrooms Master's bedroom toilet&bath

3 toilet&bath Lanai

Living Balcony

Dining Powder room

Kitchen Walk-in closets

Porch Carport

Maid's room

Click floor plans to enlarge
AMBROSIA

House features:

Minimum lot area-140 sq.m./1,507 sq.ft.

Floor area - 119 sq.m./1,281 sq.ft.

4 bedrooms Lanai

2 toilet & bath Balcony

Living Maid's room

Dining Master's bedroom toilet&bath

Kitchen Carport

Porch

Click floor plans to enlarge
ALLAMANDA

House features:

Minimum lot area - 140 sq.m./1,507 sq.ft.

Floor area - 119 sq.m./1,281 sq.ft.

4 bedrooms Lanai

2 toilet & bath Balcony

Living Maid's room

Dining Master's bedroom toilet&bath

Kitchen Carport

Porch

Click floor plans to enlarge
MAGNOLIA

House features:

Minimum lot area - 180 sq.m./1,938 sq.ft.

Floor area - 192 sq.m./2,0967 sq.ft.

4 bedrooms Master's bedroom w/ t&b

3 toilet & bath Walk-in closets

Family room Porch

Living Balcony

Dining Powder room

Kitchen Maid's room

Lanai Carport

Office/Den Laundry area

Click floor plans to enlarge
House Specifications
Structure: FRAMING - Concrete framing with isolated footing
SLAB ON FILL - Concrete slab on fill
SUSPENDED SLAB - Steel deck system on concrete
beam and girders
Walls: EXTERIOR - Ordinary 6" CHB, painted sandblast finish with grooves
T&B - Ordinary 4" CHB, 7 layers ceramic wall tiles
INTERIOR PARTITION - Painted 4.5mm fiber cement board on
light metal framing system
Windows: FRAMING - Steel casement type
PANEL - Clear glass panel
Doors: MAIN - Solid wood panel door with pitcher type lockset and dead bolt
SERVICE - Flush hollow core door with lever type lockset
T&B - uPVC door and jamb with ordinary cylindrical lockset
BEDROOM - Flush hollow core door with ordinary
cylindrical lockset
Flooring: GROUND – Ceramic floor tiles
SECOND – Laminated wood planks
T&B - Ceramic floor tiles
LANAI – Plain cement finish
PORCH – Plain cement finish
BALCONY – Plain cement finish
CARPORT – Plain cement finish
Roofing: FRAMING - Steel framing system
ROOFING - Prepainted roof tiles
Others: STAIRS - Stringer type wooden stairs with concrete walling on first flight
RAILINGS - Steel railings with wooden hand rail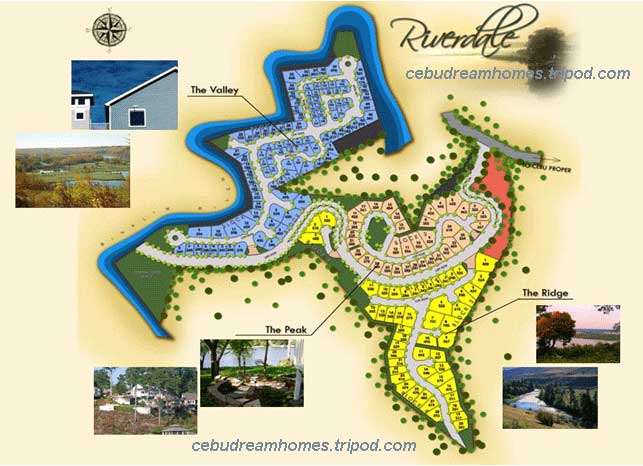 AVAILABLE: LOT ONLY FOR SALE ranging from 123 sqm up to 808 sqm ( 1,323 sq ft to 8,694 sq ft with an average of 300 sqm or 3,228 sq ft)
Sample Pricing: Peak Lots: P5,565/sqm, Ridge Lots: P6,201/sqm (may vary with specific lot chosen)
FINANCING SCHEME:
1. Down Payment 20%, Balance of 80% payable in 5 up to 10 years through in-house financing at 19% per annum
2. Down payment 30%, Balance of 70% payable in 5 up to 10 years to pay through bank financing at 14% interest per annum
3. Deffered Cash: No down payment, No Interest, payable in 2 years in 24 equal installments
Reservation Fee: P40,000