Consolacion, Cebu
The town of Consolacion was first founded in the year 1871 with a population of 14,248 under the leadership of Juan Villamor. Before this, it was only a barrio of the Municipality of Mandaue. Its people had to go to Mandaue to pay their taxes. They were required to tender free labor to build the church of Mandaue every Sunday as well as other barangays. In view all of this, Juan Villamor, their leader, petition the Spanish Governor of Cebu to convert the barrio into a town or "Pueblo". Soon their request was granted, thus a new town was formed with its first captain, Juan Villamor. The name chosen for the new town was "Consolacion", in honor of the governor's daughter named Consolacion. This was done as an act of gratitude to the governor for granting their petition. The site plotted for the poblacion was Garing because most of the influencial names were from this place. But Augustin Palang and Cabeza Gregorio Besabella, who were both from Tugbongan, suggested that their place was more preferable as it is located near the seashore thus more accesible in terms of sea and land transportation. Still others wanted it to be Tayud. Finally, thru a compromise, it was decided to choose the very place where it is now located which lies 13 kilometers from the capital of the province.
Liloan, Cebu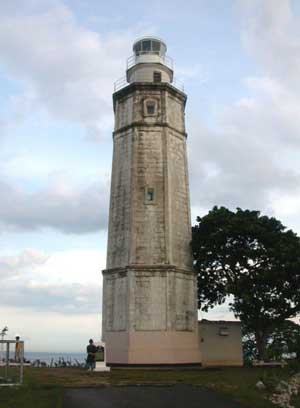 Liloan (Alternate spelling: Lilo-an) is a 2nd class municipality in the province of Cebu, Philippines. According to the 2000 census, it has a population of 64,970 people in 13,381 households.
Liloan is part of a metropolitan area informally called Metro Cebu.
Lighthouse
The Bagacay Point Lighthouse
One of the best known landmarks in Lilo-an is its historic lighthouse at Bagacay Point. The original lighthouse was built in 1857 by the Spanish. However, the current tower was constructed in 1904 by order of William Howard Taft [1], the first Governor-General of the Philippines and later the President of the United States. The tower is 72 feet tall and remains in active use today
Featured homes in Consolacion and Liloan, Cebu