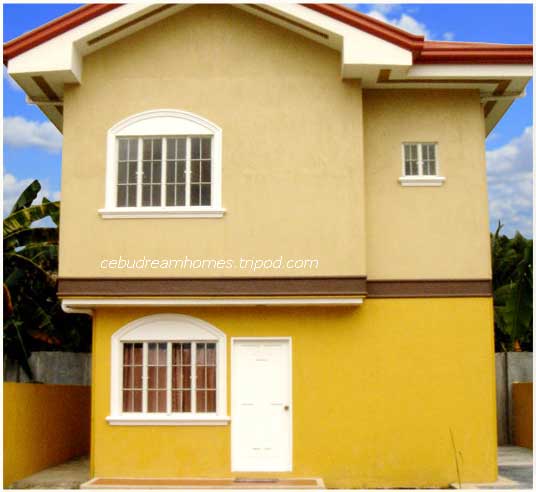 VERONA HOUSE MODEL(2storey single detached)
House Area: Price: Php3,488,000.00
Lot Area: 120 sq.m.
Floor Area: 82 sq.m.
3 bedrooms, 3 toilet&bath and 1 car garage
House Amenities:
Exterior
Long span pre painted roof sheets
Full 3 coats painting on all surfaces
Solid wood door on the main entrance
Steel casement windows
Steel roof framing system
Solid concrete on all exterior walls

Interior
Full 2 coats on all surfaces
Full ceiling on all areas with baseboards on the walls
High quality locks and hinges on all doors
Wood railings on stairs
Kitchen counter with cabinets, sinks and faucets
Elegant European tiles on floorings
Floor and wall tiles on all bathrooms
Electrical switches and outlets provided

In the act of graceful living, when one dreams and longs for eternally delightful songs, there lies a splendor of comfort for those who seek it. The fortress is called home.
Subdivision Features:
24-hour security
Elaborate entrance gate with fully functional guardhouse
Clubhouse for parties and social events
Full 6-inch concrete roads within the community
Power supply:
24-hour generator set on standby for common areas
European-style street lamps for an added feel of an Italian village
Water supply:
Deep well with ample water storage tanks
Telephone and Cable TV provisions
Playgound and badminton court
Swimming Pool

MODES OF PAYMENT
Reservation fee : Php25,000.00
In-house financing:
30%downpayment,
70%balance is payable within 3 years @ 18%p.a.

Bank financing:
Reservation fee : Php25,000.00
30% downpayment
70% balance is payable in 5 years, 10 years or 15 years
Make your dream home
An everyday reality.
We always dream about our ideal home. It is a place that is serene, elegant and sturdy enough to withstand time. It is also a home that is within our budget. La Cittadella's wide range of home models makes it the perfect community for those who are aspiring to acquire their dream homes, whether they be a couple that is just starting out in life, or a larger family with several children. Reasonable pricing and superior design and quality materials make our properties best value investments that are within reach.