Talisay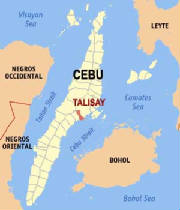 Talisay City is a 3rd class city in the province of Cebu, Philippines. According to the 2000 census, it has a population of 148,110 people in 28,751 households.
Talisay is known for its "Inasal Baboy" (Roasted Pig). Its name is taken from the 'Mantalisay' tree which is abundant in the city. It is primarily a residential and trading center. Talisay City is part of a metropolitan area known as Metro Cebu.
Talisay was founded in 1648 as an estate owned by the Augustinians. In 1849, it was converted into a municipality with Silverio Fernandez as its first gobernadorcillo and Pedro Labuca as captain.
Some accounts claim that Talisay got its name from the Magtalisay trees which are endemic in certain areas of the municipality, while others claim that Talisay got its name from a town in Spain.
During both the American colonial period and World War II, Talisay served as a haven of colonial military forces. The municipality served as the center of guerrilla intelligence operations for the Philippine resistance movement in Cebu during World War II. Returning American forces landed on the beaches of Talisay on March 28, 1945, an event that marked the eventual surrender of Japanese forces on Cebu. That day is now an official holiday in the province of Cebu.
In 2000, the municipality of Talisay was converted into a city.[1] The municipality is now linked to Cebu City via the new South Coastal Highway from Lawaan, opened in 2004. This has brought some recent inward investment in the form of sub-divisions, some hastily planned and plagued by problems.

The Municipality of Minglanilla is situated in the southern part of the province of Cebu and is about fifteen (15) kms. from Cebu City. It takes more or less thirty minutes ride from the heart of the city before reaching the town proper. It is bounded on the north by the municipality of Naga, on the east by Bohol Strait and on the west by the city of Toledo.

Class : 5th
Annual Income:(As of 1993) P 12,273,620.28
No. of Barangays: 19
No. of Households: 12,823
Total Land Area: 6,596.69 Has.
Land Classification as of 1994:
Arable Area: 1,567.68 Has.
Residential : 2,182 Has.
Commercial & Industrial : 69 Has.
Certified Alienable/Disposable Land: 353.6 Has.
Classified Forest/Reservation/Timberland: 2,500 Has.
Aqua - Marine : 6.0 Has.
Topography:
The municipality is predominantly composed of more or less 44.74 % under the 15-25 % slopes. Some portions, however, especiallly barangays located along the National Highway have that lands of 29.33 % the remaining under the rolling terrains which are presently devoted to forest and agr-forest areas (50% slopes).
Climate :
Minglanilla falls under the third type of climate or rainfall condition. It is characterized by a short dry season lasting from one to six months. There's no pronounced maximum rain period. This town is placed under the tropical rainforest type of world climate which has a uniform high temperature and heavy precipitation distribution throughout the year.
Soil Type :
Mandaue Clay Loam - 2,030 has. Baguio Clay Loam - 1,969 has. Faraon Clay - 1,253 has. Faraon Clay Steep phase - 1,435 has.
| | | |
| --- | --- | --- |
| | | |
| | | |
| | | |